Disney and Sega's movie-spoof of 2000 DreamWorks/Aardman film, "Chicken Run".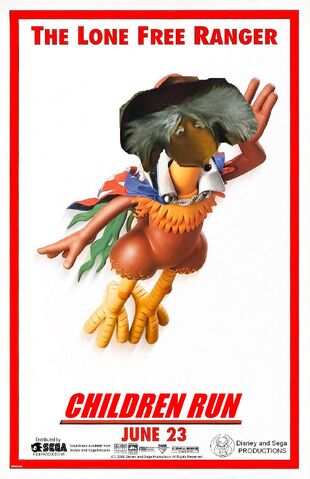 Cast:
Ginger - Nellie the Elephant
Rocky - Orinoco (The Wombles)
Fowler - Bagheera (The Jungle Book) 
Mac - Fawn Deer (Raw Toonage)
Babs - Cindy Bear
Bunty - Gadget Hackwrench (Chip 'n Dale Rescue Rangers)
Nick and Fetcher - Justin and Mr. Ages (The Secret of Nimh)
Mrs. Tweedy - Lois Einhorn (Ace Ventura: Pet Detective)
Mr. Tweedy - Vincent Cadby (Ace Ventura: When Nature Calls)
Circus Man - Danny (Tourettes Guy)
Guard Dogs - Penguin's March (Farce of the Penguins)
Ad blocker interference detected!
Wikia is a free-to-use site that makes money from advertising. We have a modified experience for viewers using ad blockers

Wikia is not accessible if you've made further modifications. Remove the custom ad blocker rule(s) and the page will load as expected.