Disney and Sega's movie-spoof and animal style of 2013's Disney film, "Frozen".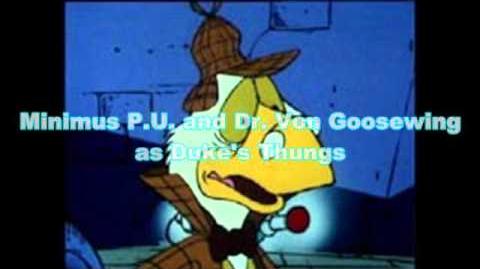 Princess Anna - Tweezle Dee (Little Mouse on the Prairie)
Elsa the Snow Queen - Pearl Pureheart (Mighty Mouse)
Kristoff - Osgood Dee (Little Mouse on the Prairie)
Sven - Parsley the Lion (The Herbs)
Olaf - Chip (Chip 'n Dale Rescue Rangers)
Hans - The Mouse King (The Nutcracker Prince)
The Duke of Weselton - Baron Greenback (Danger Mouse)
Duke's Thungs - Minimus P.U. (Atomic Betty) and Dr. Von Goosewing (Count Duckula)
Sitron - Adult Simba (The Lion King)
Oaken - Berk (The Trap Door)
Pabble - Chorlton (Chorlton and the Wheelies)
Bulda - Queen Doris (Chorlton and the Wheelies)
Cliff - King Otto (Chorlton and the Wheelies)
Marshmallow - Perfect Chaos (Sonic Adventure)
Young Anna/Teen Anna - Giselle (A Tale of the Tooth Fairies)
Young Elsa/Teen Elsa - Angelina Mouseling (Angelina Ballerina)
Young Kristoff - Martin (A Tale of Tooth Fairies)
Young Sven - Young Kovu (The Lion King 2: Simba's Pride)
Various Trolls - Various Chorlton and the Wheelies
Wolves - Penguin's March (Farce of the Penguins)
The King and Queen of Arendelle - Monterey Jack and Gadget Hackwrench (Chip 'n Dale Rescue Rangers)
Malhissa (Elsa's and Anna's evil aunt) - Chrysalis (My Little Pony: Friendship is Magic)
Kai and Gerda - Orinoco (The Wombles) and Nellie the Elephant
The Dignitaries - Mice from Rescue Aid Society (The Rescuers Down Under) and Bugs (The Trap Door)
Trailer/Transcript:
Edit
Ad blocker interference detected!
Wikia is a free-to-use site that makes money from advertising. We have a modified experience for viewers using ad blockers

Wikia is not accessible if you've made further modifications. Remove the custom ad blocker rule(s) and the page will load as expected.