Disney and Sega's Movie-Spoof of "Star Wars Episode III: Revenge of the Sith"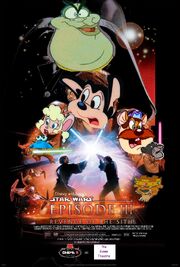 Mighty Mouse as Adult Anakin Skywalker
Pearl Pureheart (Mighty Mouse) as Padme
Monterey Jack (Chip 'n Dale Rescue Rangers) as Obi Wan Kenobi
Berk (The Trap Door) as Yoda
Constantine (Muppet Most Wanted) as Count Dooku
Freddy Fox (Peppa Pig) as Chewbacca
Maximus I.Q (Atomic Betty) as General Grievous
Caractacus P. Doom (Avenger Penguins) as Suited Darth Vader
Ad blocker interference detected!
Wikia is a free-to-use site that makes money from advertising. We have a modified experience for viewers using ad blockers

Wikia is not accessible if you've made further modifications. Remove the custom ad blocker rule(s) and the page will load as expected.