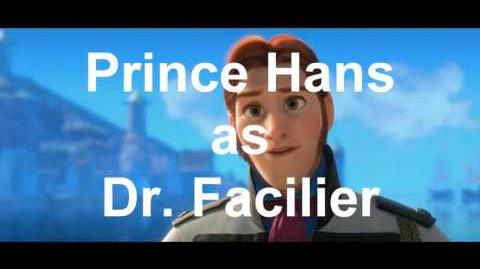 TongueSpeakingFool's movie-spoof of "The Princess and the Frog"
Cast (LEAVE IT ALONE!)
Tiana - Rapunzel (Tangled)
Tiana (Frog) - Lady (Thomas & Friends)
Prince Naveen - Flynn Rider (Tangled)
Prince Naveen (Frog) - Thomas (Thomas & Friends)
Louis - Yogi Bear (The Yogi Bear Show)
Ray - James (Thomas & Friends)
Dr. Facilier - Hans (Frozen)
Mama Odie - Mrs. Puff (SpongeBob SquarePants)
Lawrence - King Candy (Wreck-It Ralph)
Charlotte - Anna (Frozen)
Young Tiana - Young Rapunzel (Tangled)
Young Charlotte - Young Anna (Frozen)
Juju - Snake (Toy Story)
Big Daddy Eli La Bouf - Wreck It Ralph
Eudora - Smurfette (Smurfs)
James - Dave (Despicable Me)
Naveen's Parents (The King & Queen of Maldonia) - Josh and Sara Clifton (Postman Pat The Movie)
Dr. Facilier's "Friends" - Penguin's March (Farce Of The Penguins), Crayons (Winnie The Pooh), Monstars (Space Jam), Mr Nesmith (Planet Sheen), Owls (Rock A Doodle), Grasshoppers (A Bug's Life) and Evil Minions (Despicable Me 2)
Marlon the Alligator - Marion (Thomas & Friends)
Ian the Alligator - Pete "Claws" Ward (Monsters, Inc.)
Frog Hunters - Fates (Hercules)
Naveen's Little Brother - Rabbit (Winnie The Pooh/Rabbit & Friends)
Tiana's Friends - Ginger and Mac (Chicken Run)
Two Secretaries - Percy & Toby (Thomas & Friends)
Stella the Dog - Sprocket (Fraggle Rock)
Gallery
Ad blocker interference detected!
Wikia is a free-to-use site that makes money from advertising. We have a modified experience for viewers using ad blockers

Wikia is not accessible if you've made further modifications. Remove the custom ad blocker rule(s) and the page will load as expected.