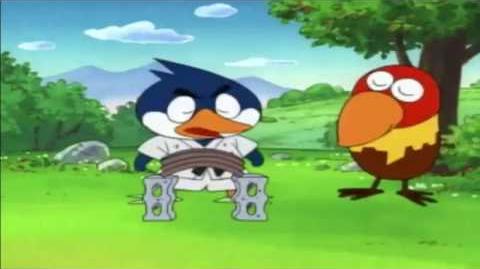 Cast:
B. L. Zebub (The Devil and Daniel Mouse) as the Smoke
Kyorochan, Pachikuri and Kurin (Kyoro-chan) as Huey, Dewey and Louie
Knuckles the Echidna (Sonic X) as Baby Kermit
Reginald (The Nuttiest NutCracker) as Garfield
Crash Bandicoot as Tigger
Kevin, Stuart and Bob (Minions) as Alvin, Simon and Theodore Seville
Jake Clawson/Razor (SWAT Kats: The Radical Squadron) as Brainy Smurf
Roger Rabbit (Who Framed Roger Rabbit?) as Baby Gonzo
Charlie Barkin (All Dogs go to Heaven) as ALF
Goku (Dragon Ball Z) as Michelangelo
Rouge the Bat (Sonic X) as Baby Miss Piggy
Big the Cat (Sonic X) as Winnie the Pooh
Ad blocker interference detected!
Wikia is a free-to-use site that makes money from advertising. We have a modified experience for viewers using ad blockers

Wikia is not accessible if you've made further modifications. Remove the custom ad blocker rule(s) and the page will load as expected.